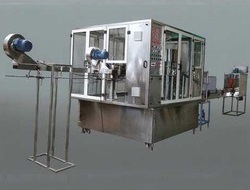 Mustard Oil Packaging Plant
Product Code : mopp1
Product Description
Mustard Oil Packaging Plant is automatically operating machinery which is comprised of a conveying system, filling nozzles, rotary motor, sealer, and a packaging roller handling assembly. It is extensively utilized in edible oil extracting industries for increasing their productivity and maintaining proper hygiene of end product. Mustard Oil Packaging Plant is designed having a steel alloy body assuring its sturdiness, high corrosion resistance, and easy to clean nature with the use of any type of chemical. It also consists of capper and has the ability to make bottles of 500ml to 1000ml.
Features:
Its working is based on the piston filler system

It has the capability of making up to 60 bottles of 1000 ml per minute

This machine is admired for its energy efficient nature
Features
1.01 Rated Capacity - 60 BPM 1000ml.
1.02. Efficiency - 95% on Rated Capacity.
1.03. Range of output adjustment - 1800 BPH to 3600 BPH.
1.04. Type - Rotary
1.05. System. - Piston Filler
1.06. Product to be filled - Mustard Oil
1.07. System consists - Filler and Capper
1.08. Other size of bottle - 500 ml to 1000 ml Plastic Bottle To be used and capacity
1.09. Type of Bottle - Plastic Bottle.
1.10. No. of Filling Heads - 12 Nos.
1.11. No. of Capping Heads - 06 Nos.

Technical Specification :
For Mustard Oil Edible Oil (Viscus )

| | |
| --- | --- |
| Configuration | Capacity 1000 ML |
| 8 x 4 | 40 BPM |
| 12 x 6 | 60 BPM |
| 18 x 8 | 90 BPM |
| 24 x 8 | 120 BPM |
| 30 x 10 | 150 BPM |
| 40 x 12 | 250 BPM |